Racing Mainsails
Every VSP Racing Mainsail is custom built to maximize upwind performance, while presenting a large projected area profile to help downwind speed. We listen to how you race and what your racing goals are, before we suggest designs, materials and features that offer the best balance of performance and value, to meet your needs.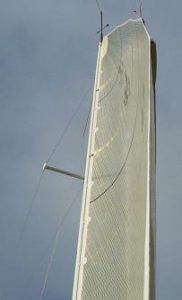 Grand Prix- We offer a variety of Grand Prix Mainsails. We build triradial racing mainsails out of Kevlar, Technora, or Carbon Fiber laminates. We also build Membrane loadpath oriented fiber sails. These sails are all built with maximum girths, laminated seams, and double sided film fabrics. These sails are built for speed.
Club Racing- These sails use similar construction using Aramid or polyester fibers. We also use taffeta backed laminates to add durability. They are designed to provide excellent performance with a longer life than our Grand Prix sails.
NEW FleX Laminates for club racing– This sail fabric and construction technique offer a unique opportunity for an economical version of an oriented fiber style racing sail at a much lower cost.
Durable Racing- For the less active sailor on a budget we can build a performance sail that offers a great compromise between durability and speed using Dacron or Polyester Laminated fabrics.
Each VSP Racing Mainsail Features:
Full Radial design, the highest quality sailcloth, spectron 12 leech line, aluminum cleats, stainless steel press or external rings, your choice of any batten styles (full, 1+3, 2+2, or all partials), tapered battens, draft stripes, sail numbers and a sail bag.
How to reach us

Via mail:
Vermont Sailing Partners
150 West Canal Street
Winooski, VT 05404
Via phone:
(802) 655-7245
(802) 655-SAIL
Via email:
info@vtsailing.com