Cruising Sails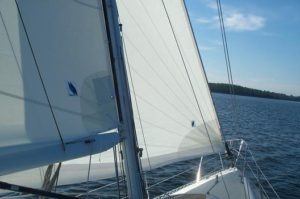 Vermont Sailing Partners cruising sails are custom designed to meet your specific sailing needs.  Whether you are sailing around the world or here on Lake Champlain, our cruising sails have logged thousands of worry free miles.
The primary focus of our cruising sail designs are ease of handling, durability and value. We never build economy grade sails and always seek to add value to our products at every opportunity. From boat measurement though design to construction and sail testing, the VSP team will work hard to make sure the sail we build for your boat is the very finest handcrafted sail you can purchase.
Our Cruising sails feature the very best sail construction and design. Whether you choose a crosscut sail built out of Marblehead woven polyester, Radial sails built out of Hydranet for offshore sailing we incorporate the same high quality finishing details.
How to reach us

Via mail:
Vermont Sailing Partners
150 West Canal Street
Winooski, VT 05404
Via phone:
(802) 655-7245
(802) 655-SAIL
Via email:
info@vtsailing.com