Welcome to Vermont Sailing Partners

We've been designing and building championship racing sails and high quality cruising sails as Shore Sails Burlington since 1981. Now as Vermont Sailing Partners, we're continuing to provide the same great sails and service to you, our fellow sailors.
Think of us as YOUR sailing partner!
Whether you are looking for the latest racing technology in high-tech racing sails, championship Lightning sails, or cruising sails for your upcoming trip to the Caribbean, contact us. We offer a wide variety of products and services, and we listen.
Maine Sailing Partners
If you were a customer of Maine Sailing Partners, have no fears! We have moved all of the MSP sail design files here to our loft and we are able to provide you with the same great sails from our loft in Vermont. Win Fowler works with us on special projects, and we can produce all of the MSP one design sails from Christmas Coves to I.O.Ds.
Our network of Sailing Partners in Maine and New Hampshire include Acadia Sails in Southwest Harbor, Gulf of Maine Sailing Services in Yarmouth, and Anson Sailmakers in Greenland, NH.
We are open Monday through Friday, 8:30AM to 5:00PM, and by appointment. We love our customers and welcome your feedback and suggestions. Use our Contact Us page to tell us what we're doing right or what we can improve on or call us at
(802) 655-7245. We'll help make all your sailing better.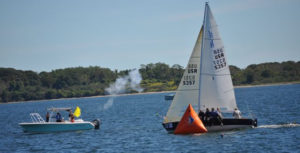 How to reach us

Via mail:
Vermont Sailing Partners
150 West Canal Street
Winooski, VT 05404
Via phone:
(802) 655-7245
(802) 655-SAIL
Via email:
info@vtsailing.com