You've spent a lot of money on your boat, isn't it worth protecting your investment? All our covers are built out of a Charcoal grey 100% Polyester "Top Gun" cover fabric.  It is a heavy duty 11 oz fabric that is abrasion, mildew and UV resistant.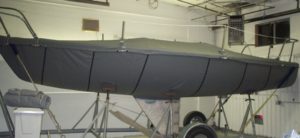 Travel Cover – This is the first full travel cover that we've seen for a J-24.  Made here in Vermont with old fashioned New England workmanship, this two-piece cover completely covers the hull and deck.  You can purchase individually or together.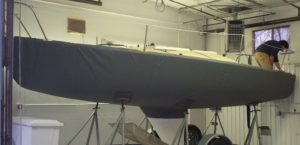 Bottom cover – This cover fully encapsulates the bottom, sides and transom of the boat.  Remove the rudder for trailering.  The cover goes on from the bow and has a protected zipper from the keel aft to the transom.  A motor mount (shown below in photos) opening is available if you don't have a removable mount.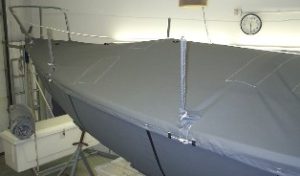 Top cover – This travel cover has no cutouts for drysailing, but that makes it more weather-proof for storage and travel.  It completely buckles around the hull and has anti-chafing patches for the chainplates, traveler, winches, hatch and other deck hardware.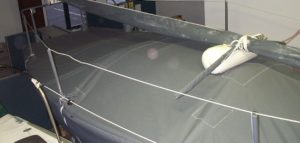 Storage Cover – This is a modified version of our top cover that has skirts to cover the sides.  It also features a transom cover and zippers at each stanchion. This is ideal for winter storage for those of us who live up north. If you live in the south it is ideal for preventing UV damage to the sides of the boat and protecting your deck from moisture damage.

Drysail cover – We offer a number of options – Starting with a lower priced "no-frills" option for covering your deck when drysailing There are optional upgrades if you want to get fancier, but this is great to keep the leaves and dirt off your deck and cockpit.
Mast Cover – This cover includes zippers at both ends for easy on/off, and expanded "pouch" area for the vang, gooseneck and compass bracket hardware.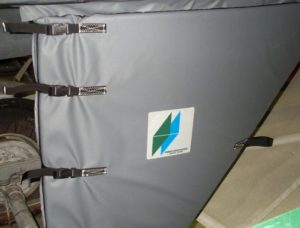 Keel Cover – Our keel cover has a few unique features to set it apart.  It has 5 straps and buckles to hold it in place, a batten along the leading edge, webbing loops as tie points to tie it forward, extra thick padding, and a flap that folds over the back of the keel inside the cover to make sure it is completely protected from road grime.
We even offer spreader and stanchion covers so you don't have to wash the bugs off after traveling!
If you don't see exactly what you are looking for, ASK US!!! Each cover we build is custom made.  We can make changes to meet your needs.
Cover pricing –
Bottom travel cover – $1430
options – including motor mount cut out $1490
Top travel cover – $935
Drysail cover – "No Frills" Budget model $495
options – Mast, mainsheet and shroud collars $65
– Velcro flaps to cover the zippers $75
– Side Velcro closures and stanchion collars $230
Storage Cover – With form fitted side skirts $1305
– Velcro flaps over all zippers add $230
Mast cover – $239
spreader covers – $35
stanchion and pulpit cover set – $165
Keel Cover – $230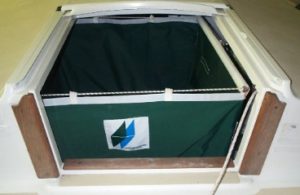 Our "best launching bag ever" J-24 cockpit launcher.  This bag pulls off to the side and out of the way of the hatch.  Much cleaner and neater than anything else we've seen.  Comes in VSP green with a mesh bottom, storage pockets and full mounting hardware kit.  $245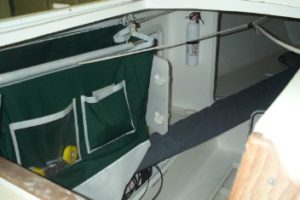 Bag only (with mounting instructions, bar and pull line, but no hardware) $145
(Hardware includes pull line, shock cords, tie lines, 5 blocks, Harken 150 cleat with fairlead, bullseye and all fasteners.
How to reach us

Via mail:
Vermont Sailing Partners
150 West Canal Street
Winooski, VT 05404
Via phone:
(802) 655-7245
(802) 655-SAIL
Via email:
info@vtsailing.com